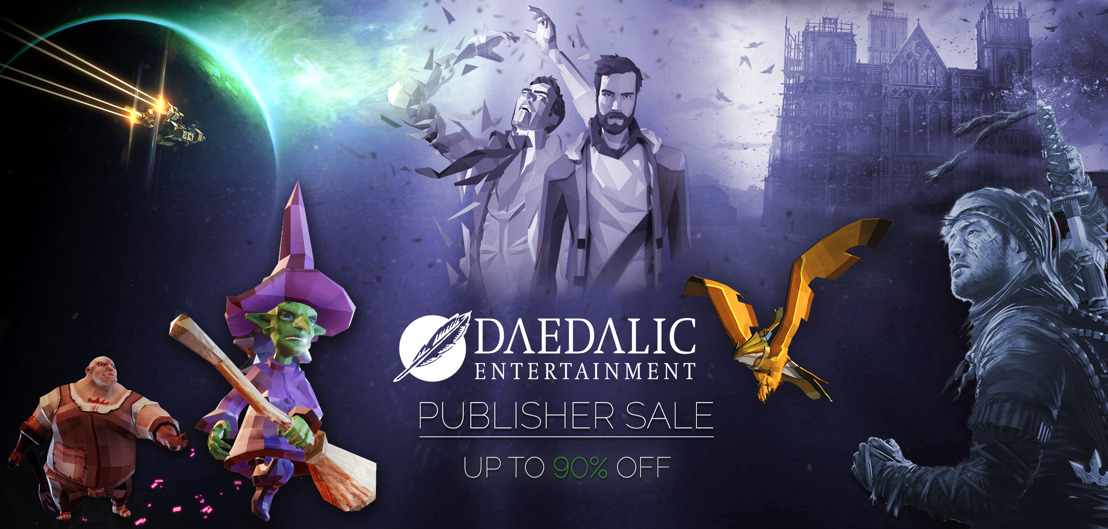 Daedalic Publisher weekend on Steam
Save up to 90% on best-selling games. Watch 96h of live streams and video content.
Thursday, April 19, 2018 — The Daedalic publisher sale on Steam starts today. Until Monday you will find discounts with up to 90% on highly popular games like The Deponia Series, Shadow Tactics, The Long Journey Home or Ken Follett's The Pillars of the Earth on Steam.
With the start of the sale, Daedalic will kick off a 96h long video broadcast on their Steam landingpage. Developer talks, Let's Plays plus videos with popular streamers as well as industry partners will provide entertainment and information about numerous Daedalic games.
Watch one of Germany's biggest Streamer "Gronkh" play Witch It against Daedalic co-founder and creative director "Poki". Join Shadow Tactics developer Mimimi in their Let's Play session, talking about gameplay aspects and tactics. Daedalic's technical director Nick Prühs will talk in depth about the company's focus on the Unreal Engine and why it's t he company's choice for all future productions.
You can find find the full streaming schedule here: Link
Here are some of the best deals during the Daedalic Publisher Weekend on Steam:
- Witch It, 50% off
- Shadow Tactics - Blades of the Shogun, 50% off
- Ken Follett's The Pillars of the Earth, 50% off
- The Long Journey Home, 50% off
- Deponia: The Complete Journey, 85% off
- Deponia Doomsday, 75% off
- AER Memories of Old, 50% off
- Crazy Machines 3, 80% off
For a full list of discounts during the weekend please checke the Daedalic landing page on Steam.